Manuel Antonio National Park
If you're wondering if Manuel Antonio National Park in Costa Rica is worth the visit, keep reading this ultimate guide and discover why my answer is an absolute yes! 
This ultimate travel guide answers all the questions you may have about visiting Manuel Antonio National Park such as how to get there by bus or car, admission fees, rules, schedule, walking time, distance, difficulty level, accessibility, what animals you can spot there, and if you should get or not a Tour Guide.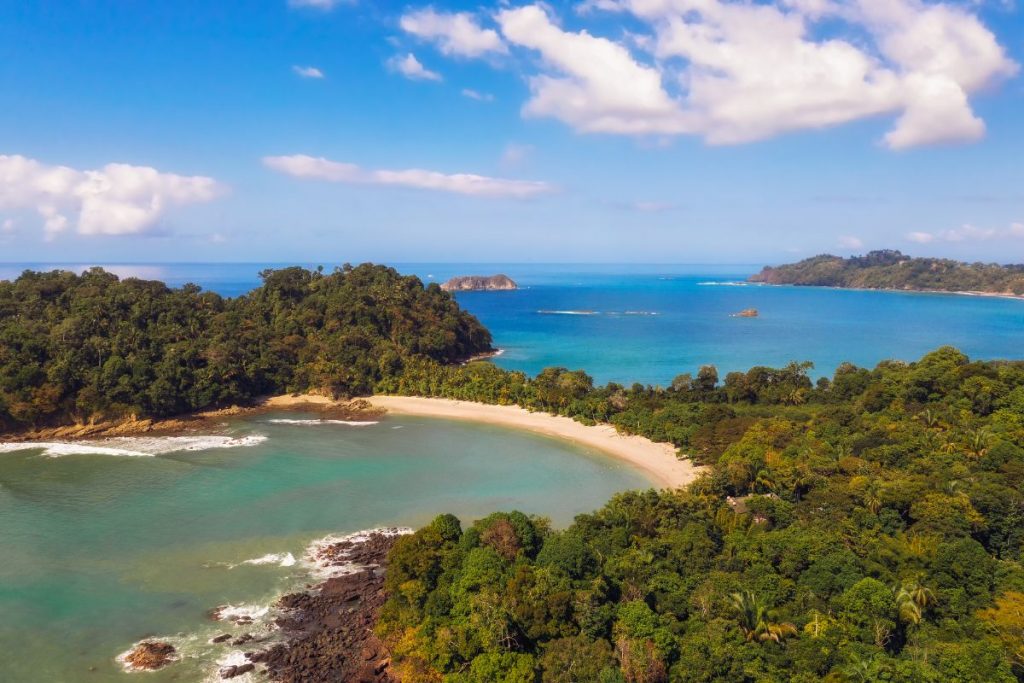 General Information about the Manuel Antonio National Park
Manuel Antonio National Park was established in 1972 and is world-know as one of the most beautiful and bio-diverse areas in the world.
Its 683 hectares make it the smallest National Park in Costa Rica but the mix of rainforest, stunning gold and white sand beaches, coral reefs, and abundant diversity of wildlife are unbeaten.
 Manuel Antonio beaches are the most beautiful in the country, and the two most popular are Playa Espadilla Sur and Playa Manuel Antonio. 
The park trails are 1.4 km long and it takes about one hour to do the full walking tour.
The site has several lookouts that allow you to enjoy spectacular views. The trailheads are located at the ends of the Espadilla Norte and Espadilla Sur beaches, which it connects. Punta Catedral is a favorite among both locals and foreign tourists.
For general information about the park, click each title to reveal the information.
Manuel Antonio National Park is open all year round, every day including holidays, except on Tuesdays.
 The beaches and trails inside the Manuel Antonio National Park are open from 7:00 am to 4:00 pm.
The public beach Espadilla Norte outside the park is open from 5:00 am to 6:00 pm.
The admission fee is $18.08 for adults, children from 2 to 11 years old pay $5.65, and babies (0 to 2 years old) don't pay.
The only way to buy Manuel Antonio National Park entrance tickets is online, at the end of this travel guide you'll find all the important links you need to prepare for your visit.
Manuel Antonio National Park Rules
Feeding animals is forbidden.
You are not allowed to bring any kind of food into the park; beverages are permitted.
Do not interact with animals, and keep an appropriate distance from wildlife.

Enjoy nature but please respect it, do not touch plants or wild animals, and do not collect shells, snails, wood, etc.

Pets of any kind are not allowed.
Don't start fires.
Arms are forbidden.
You are not allowed to cause scandals.
You can't consume alcohol, smoke, or do drugs.
Fishing or hunting is forbidden.
You're not allowed to bring umbrellas, balls, tents, or hammocks.
Drones are also forbidden.
Best time to visit the Manuel Antonio National Park
The best time to enjoy the park if you want to avoid crowds is between September and October, during the early hours. Due to the rainy season, the park has less visitation compared to other months.
But if you prefer to have more beach and sun time, visit during the dry season from December-April.
Animals you can spot in Manuel Antonio National Park
Manuel Antonio National Park is home to 109 mammal species and more than 300 bird species.
The most common animals to spot during a guided tour in Manuel Antonio National Park are:
The 4 species of monkeys you can find in Costa Rica can be found in Manuel Antonio (Howler Monkey, Squirrel monkey, Spider Monkey, and White-faced Monkey)
Two-toed and three-toed sloths are very common but sometimes hard to spot if you don't keep your eyes on the trees.
Raccoons.
Coatis.
Anteaters.
Ocelots (Hard to spot).
Crocodiles.
Iguanas.
Boas and colorful snakes.
Manuel Antonio National Park Common Scams and How to Avoid Them
 1. Parking Scam: Scammers will try to stop you to park your car miles away from the Park Entrance saying this is the official parking.
The first group should hit you on the main road by the beach. They will look like park employees (full uniform with badges) and will tell you that self-guided tickets are sold out and that you need to park here and get on a guided tour.
How to avoid it: DO NOT STOP and just wave them away or say you're a local in Spanish: "Vivo aquí mae" we did that the last time we visited and they left us immediately.
The scammers are located on the main road, so you will definitely see them, also don't believe them if they say the road is closed or you're not allowed to keep going.
There is no official parking area for the Manuel Antonio National Park, but private parking areas are available around the park entrance for ₡4000-₡5000 for the day.
2. Fake Tour Tickets: Scammers will try to sell you fake tours and fake tickets to the park.
How to avoid it: Fake tickets are the reason why now you can only buy park tickets online through the official SINAC website and they aren't transferable, you have to provide a valid ID to enter the park, if you're a tourist they will ask for your passport or passport copy ( you'll find the link to the SINAC official website at the end of this guide) so if someone tells you he wants to sell you tickets because they run off at the park or offer them to you for half the price, etc, you'll know he's a scammer.
Should you book a tour guide or not
You don't need a Tour guide to enter the park, however… I truly recommend you book a guided tour in advance and here is why:
You'll have the time to choose the right guided tour for you and your party.
Avoid being scammed by fake tour guides at Manuel Antonio. 
Compare rates online and chose the best for your budget.
The majority of Manuel Antonio National Park guided tours include the entrance ticket on their rate so you won't need to worry about booking them yourself.
Having an expert guide with you is the best way to spot lots of animals, they do this almost every day and know where the animals love to be, eat, sleep, etc.  They also have special equipment to help you enjoy the highlights of Costa Rica's wildlife.
The last time I went to Manuel Antonio National Park we chose to do a Guided Tour, and it was definitely worth it, we saw wildlife we wouldn't have able to notice if our guide didn't point it to us and even doing that it took us minutes to spot them, we saw the 4 species of monkeys, 1 raccoon, a deer, coatis, 3 different and colorful snakes, and even some colorful tiny crickets I didn't even know existed.
Manuel Antonio National Park Guided Tours
If you decide to book a Guided Tour for your visit to the Manuel Antonio National Park, we recommend you check the following companies, these are trusted tour operators in the area, you'll be able to compare rates and reviews, and you'll money be protected in case of last-minute cancellations from the tour guides due to weather and you'll be also able to have free cancellation 24 hours before the tour.
How to get to Manuel Antonio Costa Rica National Park
By Bus from SJO Internation Airport
By Bus from SJO International Airport: There's a Bus from TUASA company that leaves every 10 minutes from the SJO Airport to San Jose, there you need to reach TRACOPA TERMINAL ( here's de google GPS point) where you can catch a Bus to Quepos, check schedules on their official website: Tracopa Schedules
Once you are in Quepos Bus Station ( Here's the GPS point) there's a bus leaving for Manuel Antonio every 30 minutes.
Safety Tip when traveling by Bus in Costa Rica
Please remember never to leave your backpack or other belongings unattended, local scammers and pick-pockets quickly identify tourists. Don't believe taxi drivers or people offering you transportation if they tell you the bus is not leaving or is broken or whatever they will be telling you things like that just so you pay for their services, get your info from the real bus company.
Flying from SJO to Quepos to get to Manuel Antonio NP
There's is a Regional Airline Company next to the SJO International Airport called Sansa, you can book a flight from SJO to Quepos and then take a Bus, taxi, or Shuttle even book a Car Rental in Quepos to go to Manuel Antonio National Park which is located 15 away from the Quepos Airport.
Book a Car Rental in SJO Airport and drive to Manuel Antonio National Park
 Personally I love road trips, and Costa Rica is a country with so many landscapes and wildlife that will make you wanting to stop and take pictures of everything, having your own car will allow you to know more destinations in just one day, stop to have lunch and enjoy the local cuisine, and have wildlife encounters like monkeys eating on a tree just next to the driveway or being on a traffic jam where everyone is happy because the reason that car are stopped is because a sloth is crossing the road.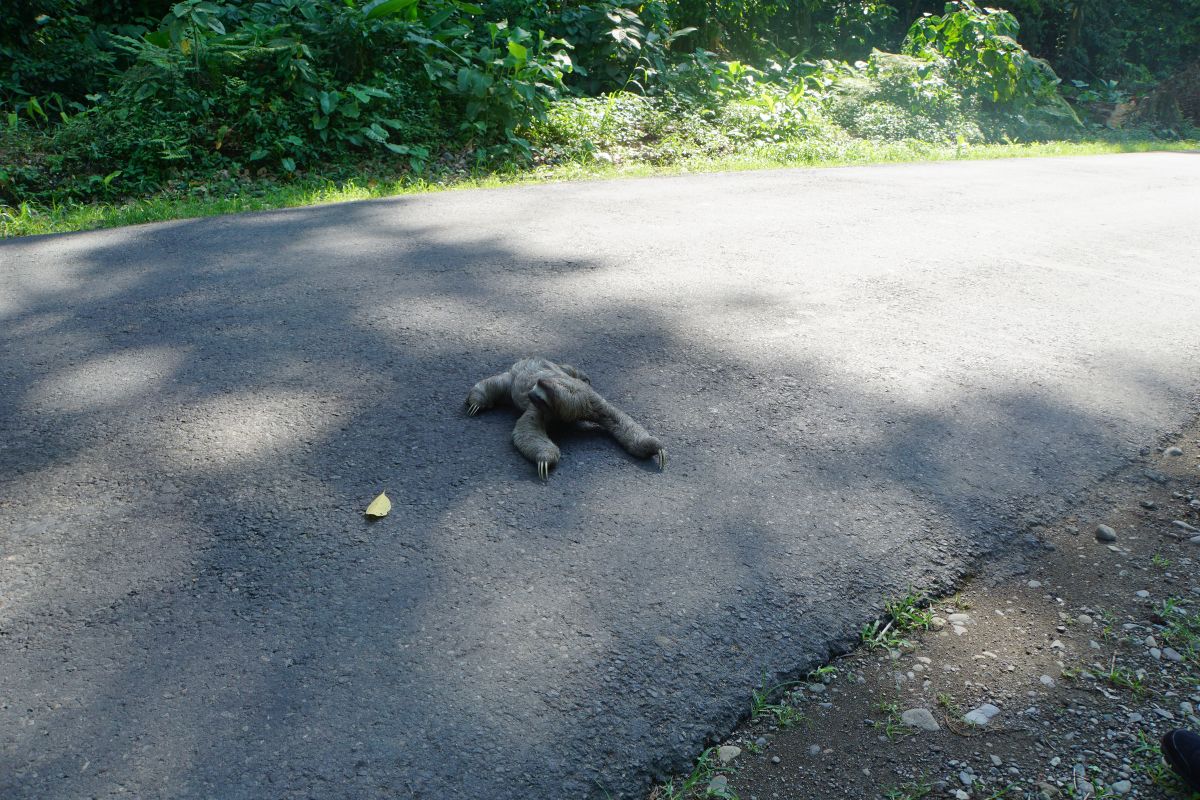 Book a Shuttle from SJO Airport to Manuel Antonio National Park
I hope this ultimate guide about Manuel Antonio National Park was helpful, and remember to bookmark or favorite this page if you want to read it later during your Costa Rica Trip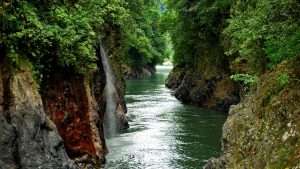 Tours
Pacuare River The Pacuare River is widely considered one of the best rafting destinations in
Read More »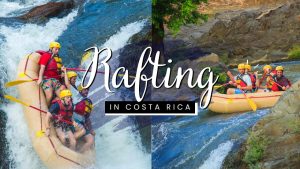 Tours
Rafting in Costa Rica Rafting in Costa Rica is a popular adventure tour among tourists
Read More »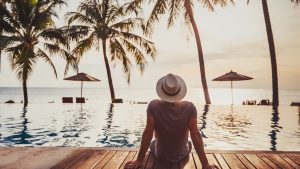 Hotels