Costa Rica Car Rental
We offer you the best Car Rental rates in Costa Rica and we can provide our services anywhere in the country.
We have offices on different main destinations in Costa Rica:
•    SJO International Airport, San José.
•    Paseo Colon, San José.
•    Belén
•    LIR International Airport, Liberia, Guanacaste.
•    Best Western Irazú Hotel
•    Ramada Herradura Hotel
•    Juan Santamaría Airport
•    La Fortuna San Carlos
•    Jacó Beach
•    Quepos
•    Hilton Papagayo Resort
•    Tamarindo Beach
•    Sámara Beach
•    Mal País
•    Peñas Blancas
•    Dominical
•    Golfito
•    Puerto Jimenez
•    Paso Canoas (Border with Panama)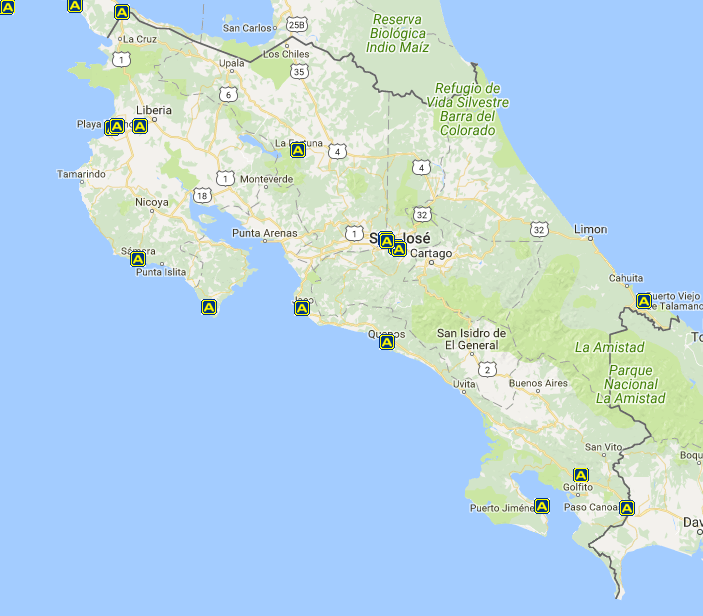 GOING SURFING?
No Problem! We can add Surf Racks to any of our 4x4 vehicles for no cost, just don't forget to request them.
We also cover all the southern zone of Costa Rica, you can rent our vehicles in several destinations like Golfito, Pavones, Punta Burica, Zancudo, Sierpe, Uvita, Ojochal, Palmar Norte, Rio Claro and Ciudad Neilly.
You must know that there are regional airports in Golfito and Puerto Jimenez, so you don't have to drive all the way down from San José, just book a flight  and get your car rental right at the Golfito Airport or Puerto Jimenez Airport waiting for you.

If your comming from Panamá we have the best rates right at Paso Canoas Panama Border with Costa Rica.
Puerto Jimenez on the Peninsula de Osa and Corcovado are great destinations for nature lovers, The Peninsula de Osa is a secluded area but you can fly to Puerto Jimenez  and then have your vehicle waiting for you at the regional airport.
Required Documents
Age Requirements
Deposit
Insurance
Required Documents
You will need the following documents to rent a car with us:

Valid Drivers License
Passport
ID (Costa Rican Citizens)
Valid Credit Card
Age Requirements
Minimum age to rent a vehicle is 21, rental rates may be higher for renters and additional drivers under the age of 25.
Deposit
A Credit Card will be required at the time of your rental.
American Express, Visa, Mastercard and Diners Club are accepted.
Cash Deposit, Debit Cards or other cards are not accepted.
Insurance
Basic Coverage (Mandatory)
This is a combine product that includes Collision Damage Waiver and Third Party Insurance. If there are damages to the rented car or if there is an accident, the client must be responsible for the payment of the deductibles. The maximum amount of deductible to be paid to Alamo in case of damages caused to the rented car is US$ 1.000.00 (one thousand dollars). If there are damages done to third parties properties, the deductible will be 20 % (twenty percent) of the total of the damages. The minimum deductible in case of damages done to thirds parties is US$ 250.00 (two hundred and fifty dollars). The deductible in case of theft will be US$ 2.000.00 (two thousand dollars).
Accident Protection (Optional)
Alamo Rent a Car offers this protection that will eliminate the payment of deductibles in case of an accident for both: the rented car and third parties properties.
Theft Protection (Optional)
When a customer takes this option, he will not pay any deductible in case of theft (total or partial theft). This coverage does not cover personal belongings.
Full Protection
It is the sum of all above protections.
Or Request a quote now! - We'll reply in less than 2h