Top 10 Surfing Destinations in Costa Rica
If you're a surfing enthusiast, you know that Costa Rica is a paradise for wave riders. The country's Pacific and Caribbean coasts offer a variety of breaks for all skill levels, from beginner-friendly beach breaks to challenging reef breaks. But with so many options, it can be overwhelming to decide where to go. That's why we've rounded up the top 10 surfing destinations in Costa Rica.
Best Surfing Destinations in Costa Rica

This beach has earned first place in the Top 10 Surfing Destinations in Costa Rica because it is known for having one of the most consistent waves in Costa Rica.
It features a beach break that peels to the right and left over a sandy bottom. The beach break has multiple peaks all along the shoreline.
During the low tides, the waves are more steep and fast perfect for short boarders while during the mid to high tides, the waves are smooth, so the longboarders will have a fine time.
On good days, the waves ride to a long-distance, reaching up to 300 meters. The waves are gentle and smooth, which makes them perfect for beginners and intermediate surfers. The southern end of the beach is best for beginners. Seasoned surfers won't be disappointed, either.
The surf spot is quite fun to ride and on good days when big swells are picked up, the waves can even provide a nice challenge.
The beach break is sometimes called 'the beginner's spot' which is not so accurate. Even though the bottom is sandy, and the waves are small, extreme caution should be taken when the swells get too huge as they cause the waves to become powerful and strong with many rip currents and undertows. During such conditions, the beach break gets potentially dangerous for beginners.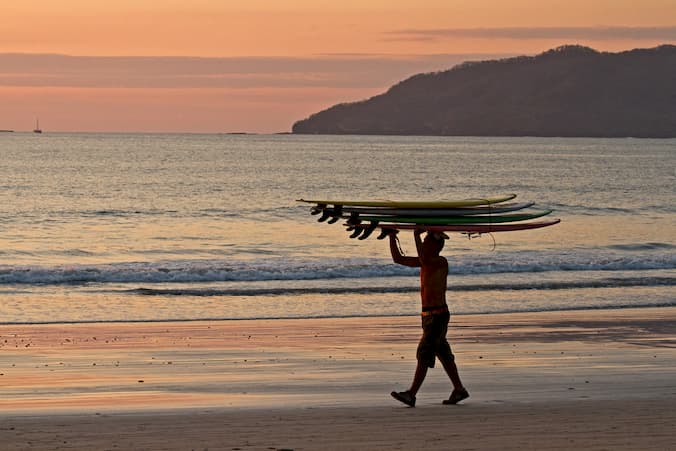 Playa Tamarindo is a world-famous tourist destination located on the northern Pacific Coast of Costa Rica.
 Tamarindo lies in a sheltered bay formed by a cape called Cabo Velas, It's a long white sand beach with superb waves near the tidal river mouth also known as an estuary. 
The currents are really strong, particularly when the tides fall.
There are two main surf breaks here; Pico Pequeño and El Estero. These surf breaks are more or less geared towards advanced surfers.
Beginners and novices can practice surfing or rest on the beach. The waves are quite challenging, and they can rise up to 12 feet during the months of November and December! The estuary is relatively unsafe for swimming because there are just too many rocks offshore which often become exposed at a low tide.
During the past 10 years, Tamarindo has become very well known as a favorite surfing spot and beach party town. 
Experience Tamarindo's perfect breaks with a 2-hour surf lesson at a legendary beachside shop. Get in the water for the first time and practice paddling, popping up, and riding in a forgiving beach break.
More experienced surfers can hone their skills by surfing alongside an expert instructor, learning to read the breaking surf while improving technique and form. Riders of all skill levels can soak up the sun on the Pacific Coast and enjoy the security of an experienced surf school that places the emphasis on safety and fun. 
Check Tamarindo surf lessons rates and availability here.
Playa Avellanas! boasts world-class waves that break consistently year-round. Situated in a very receptive location for surf, Avellanas can handle the big swells and provide quality waves on smaller days that are perfect for learning. 
There are five main peaks (not including the secret spots) along Playa Avellanas that work on different tides, offering all day surf sessions if you can handle it. 
Water temperature seldom drops below 28 C (82 F), so leave your wetsuit at home!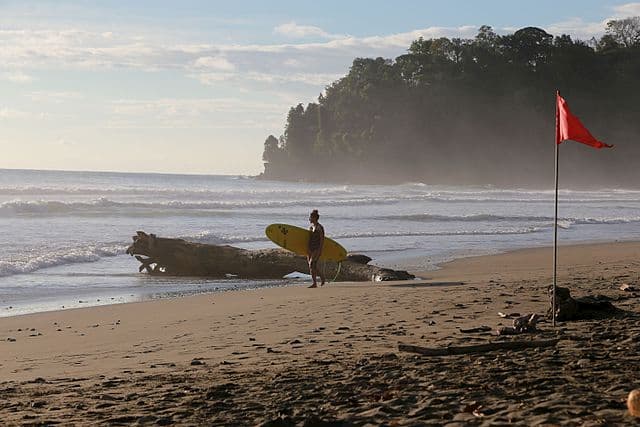 When you plan a surf trip to Playa Hermosa in Costa Rica, you want to make sure you head to the right one.
There are two beaches with the same name, one in Guanacaste and one in Puntarenas.
Both have beautiful blue waters and great vistas, but the one in the Puntarenas province is the one with the best waves.
Surfers flock to this haven to enjoy the consistent swells and clean, pristine sands.
It is thanks to this cleanliness that the beach was awarded a Blue Flag award.
If you want to take surf lessons in Jaco with a Pro Team at Surfer Factory Surf School you will be getting surf lessons from certified, educated, and caring instructors who have dedicated their lives to knowing and appreciating the spots in Jaco they surf and teach at.  

Check Jaco Surfing Lessons rates and availability here
Salsa Brava, Puerto Viejo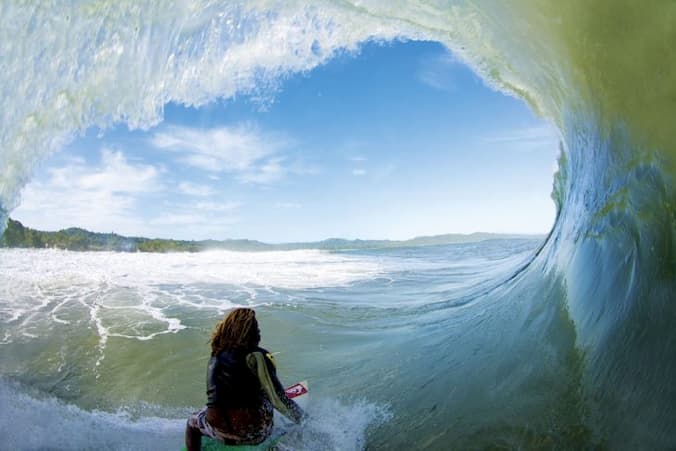 The reef right in front of Puerto Viejo is the spot for more advanced surfers. Surfline says: Salsa Brava loosely translated means "angry sauce", and if that ain't a groovy little metaphor, nothing is. 
It's called Costa Rica's heaviest and best wave, and believe it: pound for pound, it's as intense as any coral reef double-up right tube in the world.
Pavones Costa Rica is home to one of the longest left breaking waves in the world!
Pavones is a sheltered point break that has unreliable waves, The best wind direction is from the east. Groundswells are more frequent than wind swells, and the ideal swell angle is from the southwest.
The break here is a left-hand point. Best around low tide when the tide is rising. Take care of rocks in the line-up.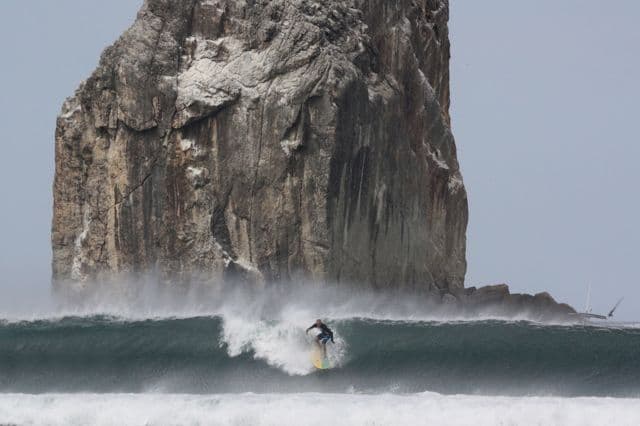 Playa Naranjo features epic golden sands, strong and open breaks, and a large rock formation just off of the coastline that the locals have dubbed Witch's Rock.
The surf is consistently strong and clean groundswells are of common sight, making it perfect for those surfers to take the larger outside sets or for the surfer who likes the smaller inside waves.
Surfers should note that the breeze at Witch's Rock most often blows from the northeast, making a southwest swell the best situation for the biggest waves. Witch's Rock has an A-frame wave that breaks both left and right, assuring that surfers of all styles will be able to catch the waves.
Santa Teresa and Mal Pais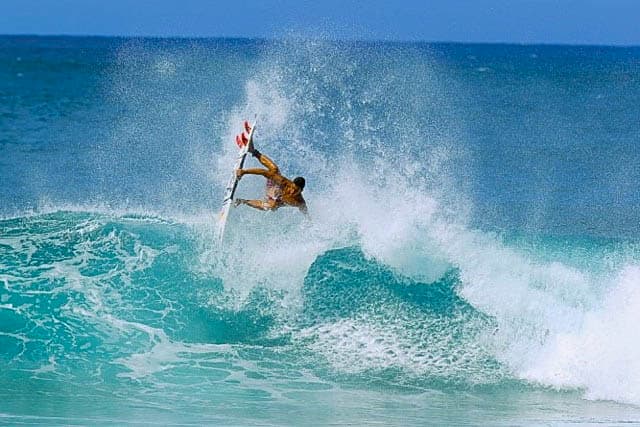 The beaches of Santa Teresa offer some of the best surfing experiences in Costa Rica.
They boast of world-class breaks and ideal surf conditions all through the year.
Santa Teresa's main attraction is the consistent waves.
This remote tropical town is located at the southern tip of Nicoya Peninsula in Costa Rica.
It is ideal for a surfing holiday as it is free from the hustle and bustle of big city life.
You can enjoy surfing and relax in this tropical paradise which boasts of white sand beaches, blue lagoons, rainforests teeming with wildlife, and plenty of silence and solitude.
You can have a whale of a time on the several beaches near Santa Teresa and Mal Pais.
These beaches enjoy great popularity among surfers because of their excellent surfs.
Santa Teresa holds many international competitions for surfers.
Beginners can learn the art of surfing while on vacation here.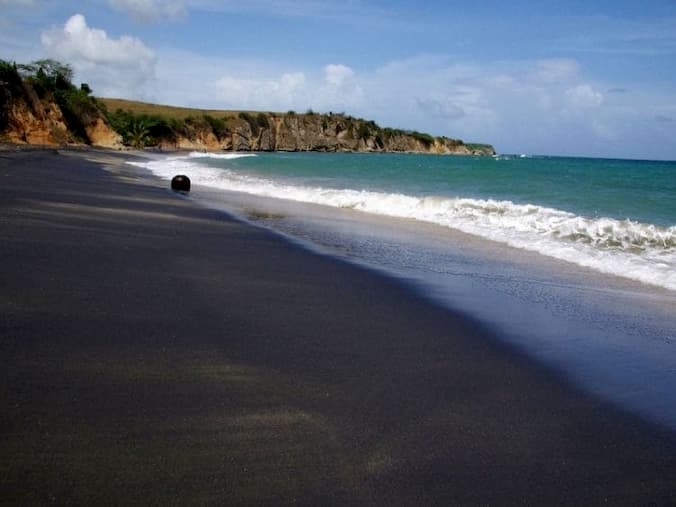 Playa Negra is a fabulous surf point for those who are seeking a thrilling challenge.
For a hardcore surfer, the incredible surf break with Playa Negra consistent right-hand barrels is really fun to ride.
Although the beach is easily reached, the take-off zone is a very small area, accommodating only about a dozen of surfers. To this date, black beach is regarded by many veteran surfers to be one of the best surf points in Costa Rica.
Dominical is one of the better-known surf spots in Costa Rica, and even if it's the last in our Top 10 Surfing Destinations in Costa Rica list, it's worth a visit to check its good waves.
The swells, from the Northwest and the South, hit the open, unprotected beach with their full power.
The hollow waves at Dominical are powerful! This is not a beach for beginner surfers or swimmers.
The waves are easier to surf during high tide. They become hollower and faster at lower tides.
Dominical can hold swells up to 10 feet and waves faces can build up to triple overhead! There is no guarantee for perfect waves here, if the sandbanks are not in the right position waves might just be average.
So whether you're a beginner looking to learn the ropes or an experienced surfer searching for the ultimate wave, Costa Rica has something for everyone. With its consistent waves and a variety of breaks, it's no wonder that this small Central American country is a surfers' paradise. So pack your board and head to one of these top 10 surfing destinations in Costa Rica for the trip of a lifetime.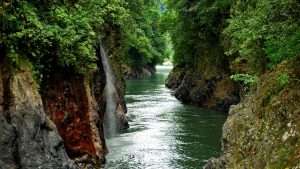 Tours
Pacuare River The Pacuare River is widely considered one of
Read More »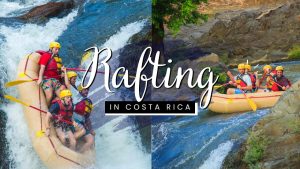 Tours
Rafting in Costa Rica Rafting in Costa Rica is a
Read More »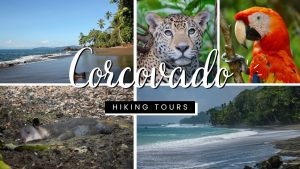 Tours
Corcovado National Park Tours Looking for an adventure-packed journey that
Read More »