Costa Rica Hot Springs Resort
Did you know that thermal waters offer endless benefits, including immune system strengthening, stimulation of multiple organic processes, analgesic properties, and skin moisturizing powers? Across Costa Rica, you can find some of the most scenic hot springs and thermal resorts in the world to fit every travel preference, whether you're looking to take a dip in nature after a hike or prefer a spa-like experience, no matter the season, check the best Costa Rica Hot Springs Resort.
1. Baldi Hot Spring Resort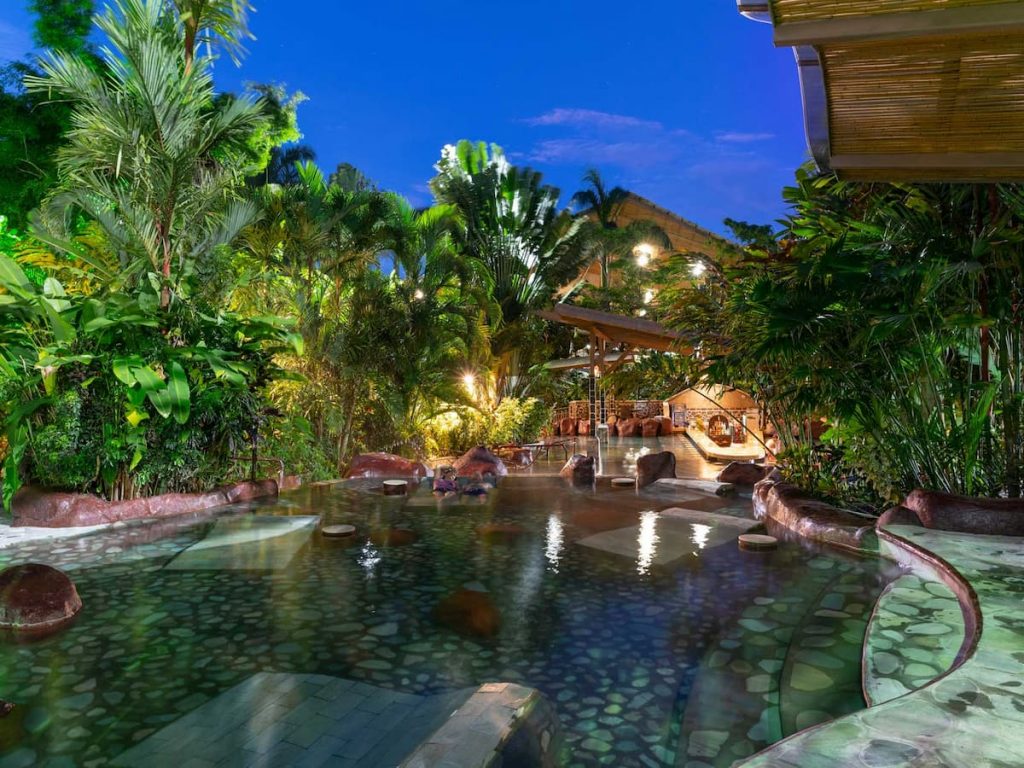 Baldi Resort is located a short 15 minutes drive from La Fortuna town. The resort has multiple natural thermal pools of different sizes and temperatures and is the world's largest thermal hot springs resort in the world.
The pools are surrounded by lush green nature and some amazing views of the Arenal Volcano.
The first of the larger pools in the resort has a cold plunge pool built into its middle and some nice waterfalls around its edge, topping up the pools with thermal water and keeping the temperature up.
The far side of the pool has an outside swim-up bar and some more hidden areas to relax behind the thermal waterfall.
Continue down to the next thermal pool, which is also the hottest in the park at 113 degrees and a bit extra to spend so much time in. the water that supplies this pool is also fed to a series of the cave which can be accessed at the far side of the pool, creating a natural sauna.
2. Tabacón Thermal Resort & Spa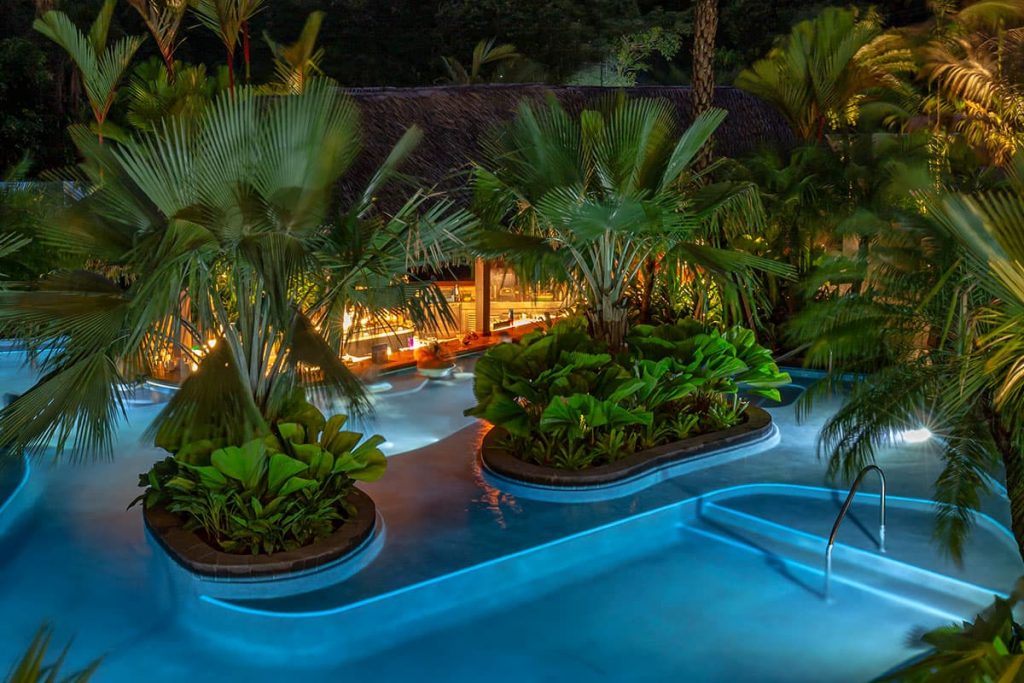 Tabacon is set on more than 900 acres of lush tropical reserve, home to Costa Rica's largest network of naturally flowing Hot Springs at the base of the Arenal Volcano.
It can be easily reached from the San Jose and Liberia international airports.
This Costa Rica Hot Springs Resort offers 103 luxurious guestrooms and suites to choose from, many offering something unique and all well-appointed and comfortable.
 You will find the naturally flowing Hot Springs, originally developed around the idea of a natural encounter with Wellness escape, in the jungle under the shadow of the Arenal volcano.
It was the first thermal resort established in the region in the early 90s, and it quickly became a hotspot for travelers looking to experience the soothing volcanic waters.
If you are looking for total serenity, the adults-only Shangri-La Gardens is available exclusively to hotel guests and is the ideal way to enjoy the sounds of the forest.
The SPA at Tabacon is a bit special. Memorable spa treatments are rendered in outdoor bungalows tucked away in amongst the forest and natural Hot Springs.
The setting offers complete privacy, which is key to achieving the desired state of peace and balance.
Offering a wide variety of services, they blend natural rainforest elements with indigenous ingredients to create a truly special Wellness experience.
The restaurants at Tabacon specialize in Costa Rican cuisine, and creative International culinary concepts blend to create new gastronomic experiences.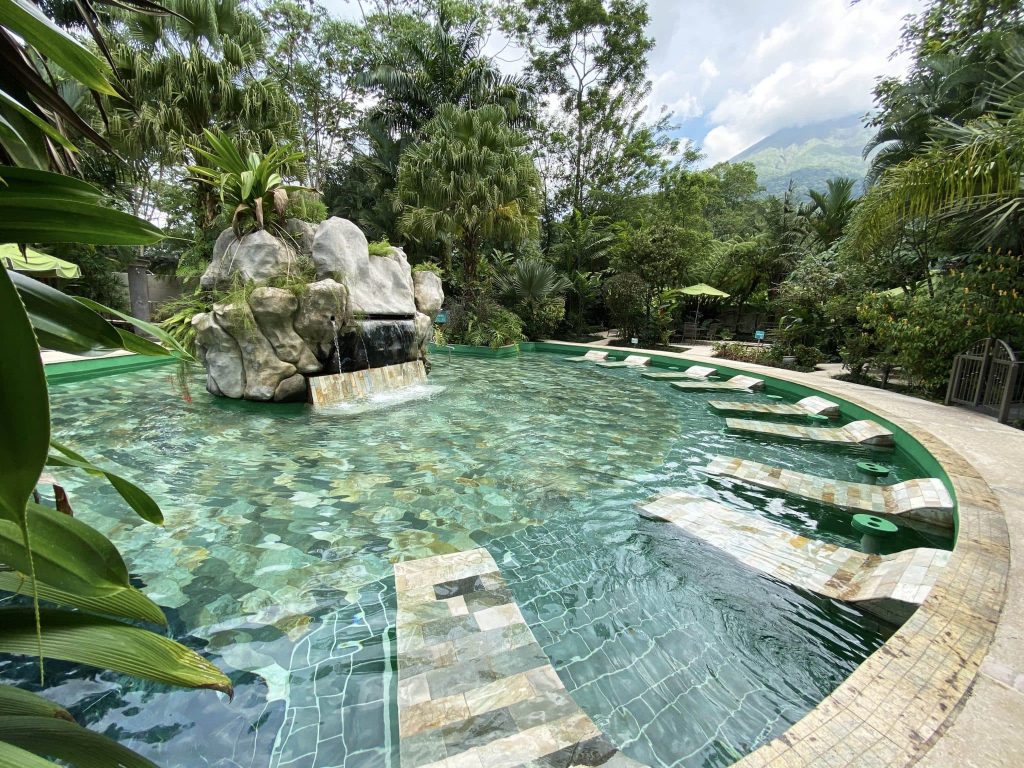 Paradise Hot Springs, where water meets relaxation. It offers seven different pools to relax and unwind, and its pure waters are naturally heated by the Arenal Volcano.
Palma Real is the biggest pool in this complex. Its view from the entrance will make you feel like you're walking in a lavish jungle with waterfalls crashing in front of you, and there are plenty of areas to rest: submerged beds or shadowed lounge chairs. 
The Ginger Jacuzzi is the perfect place to relax and forget your troubles. It relieves stress, as well as mid-back muscles pain. Soak up nature's beauty while enjoying a hot tub surrounded by exotic tropical flowers.
4. The Springs Resort and Spa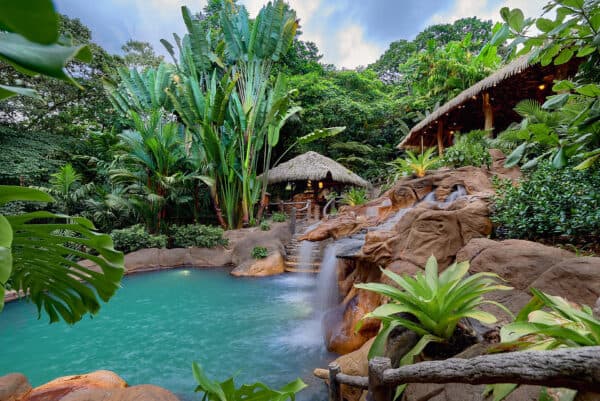 The Springs Resort & Spa is a breathtaking five-star resort with something to offer to everyone.
Located in Arenal, Costa Rica, this beautiful property offers spectacular views of the volcano and natural hot springs, as well as an impressive full-service spa that is sure to amaze you.
 CNN Travel voted it one of the seven resorts with some unique scenery in the world. Did you know that they've also hosted "The Bachelor" among other famous television programs? Their hot springs provide a relaxing and rejuvenating experience, with numerous pools to choose from. 
Whether you're looking for the perfect place after a long hike or just want to take in some views of the volcano, they have everything you need! With temperatures ranging from 83 degrees Fahrenheit up to 104 degrees Fahrenheit, as well as environments that vary between raging waterfalls and tranquil forest experiences, there is something for everyone's needs.
Tests have shown that their mineral springs are an ideal combination of high bicarbonate and high chlorides with relatively low sulfur content to provide a truly pleasurable soaking experience.
5. Arenal Manoa & Hot Springs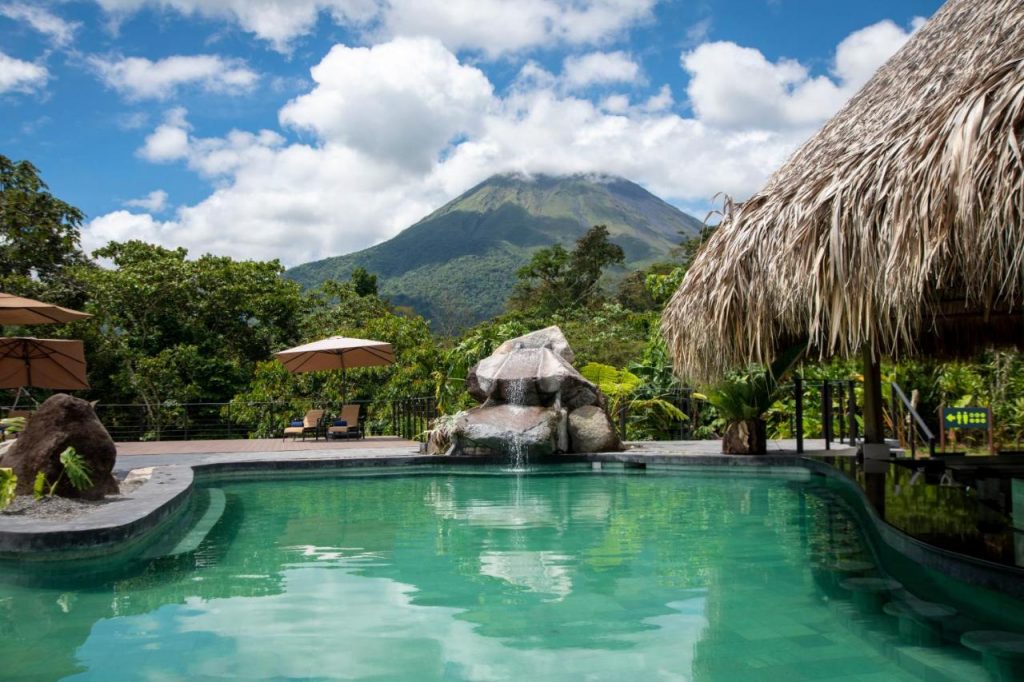 Costa Rica's Arenal Manoa Hotel & Hot Springs is an enchanting resort that features stunning views of the volcano as well as warm, friendly hospitality.
The restaurant offers fresh seasonal food made with local ingredients to create a truly relaxing and soothing experience for all visitors. Located 15 minutes from downtown La Fortuna, Arenal Manoa & Hot Springs is the perfect choice for those who want to be fully immersed in stunning sceneries.
Surrounded by lush jungle and scenic views, you will experience everything Costa Rica is known for a while, enjoying the beneficial effect of hot springs. The pool at the resort is open to everyone, thanks to the ramp that facilitates the access.
There are two pools that offer heated thermal water with different levels of temperature. Plus, you can get lunch or drinks from their swim-up bar or while relaxing in one of the many lounge chairs around the property.
Recent studies found out that the Arenal Manoa's waters are rich in minerals such as sulfate and magnesium and the ionized environment is perfect for relieving arthritis, rheumatism, muscle pain, or just unwind and detox body and mind.
6. Chachagua Rainforest Hotel & Hot Springs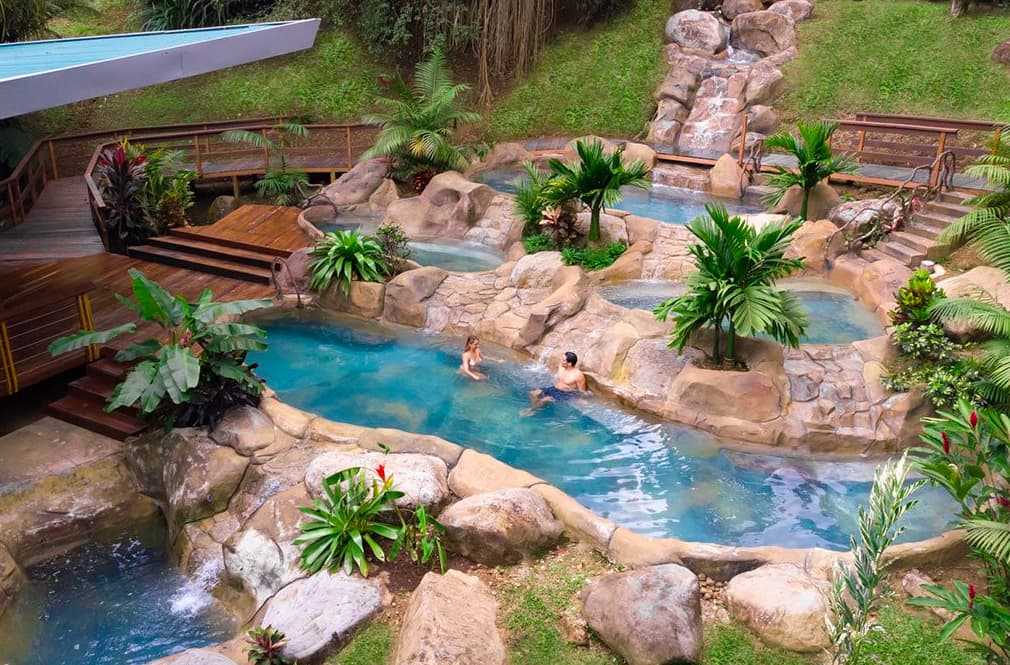 The Chachagua Rainforest Hotel & Eco lodge is the premier rainforest destination in Costa Rica. It is located close to Arenal Volcano, where you will find an unparalleled experience of beauty and relaxation that can only be found in a jungle paradise.
Set in Costa Rica's Central Valley, the hotel has easy access to the Tilaran mountains and the Children's International Rainforest.
San José and the Gulf of Nicoya coastline can be reached in 90 minutes by car.
The relaxing hot springs and thermal pools of the resort are just the tips of the iceberg! Monkeys, sloths, parrots, and other wildlife can be observed in the surrounding rainforest. There are several walking trails leading to waterfalls, streams, and ponds.
7. Hotel Los Lagos Spa & Resort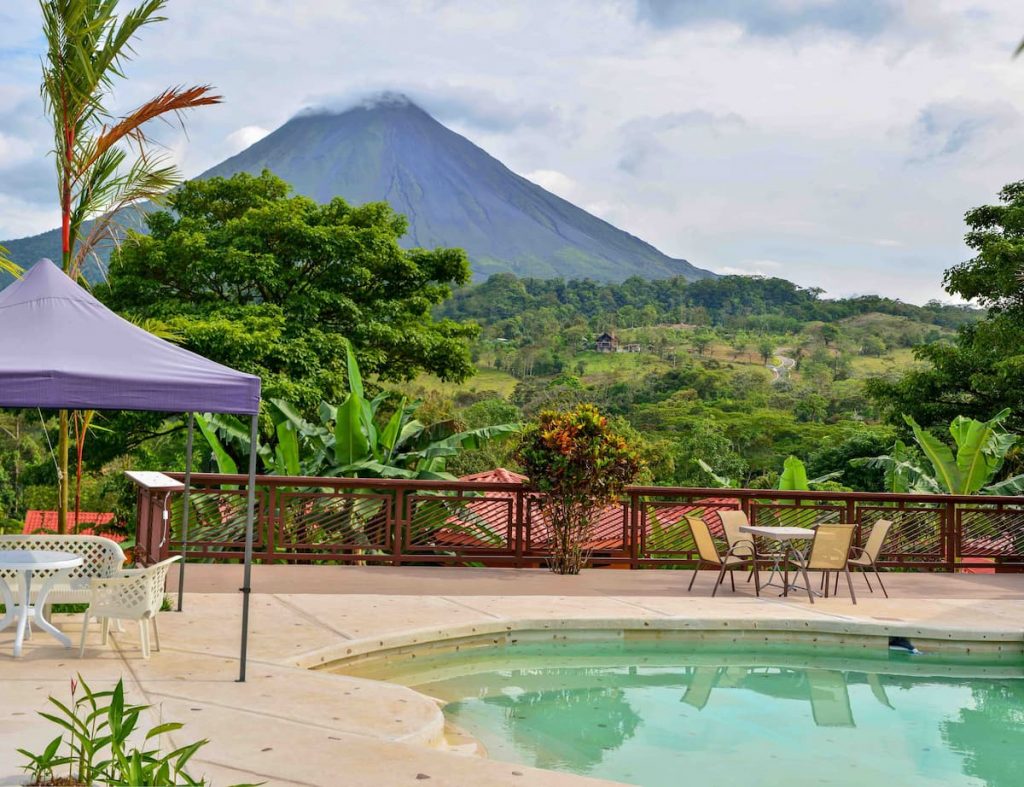 This tropical hotel is located next to Costa Rica's Arenal Volcano, 6 km from La Fortuna. It offers a natural hot spring, outdoor adventure activities, a luxurious spa, and scenic volcano views.
The Los Lagos Hotel, Spa & Resort hot springs are a gift from nature and the result from the interaction of groundwater with the magma coming directly out of an active volcano.
Let the volcanic energy infuses your body as well as your skin with minerals that come straight up through our planet's deep core. Don't forget that Hotel Los Lagos also offers a unique spa. Indeed, Fangus Spa features some of the best spa treatments, perfect for couples and love birds.
Enjoy rich wraps and body exfoliation with coffee or chocolate-based products to nourish your skin while also helping you eliminate toxins from inside out! You can then share a steam bath that will help your muscles relax after trekking in the jungle.
8. Miradas Arenal Hotel & Hotsprings
A family-owned and farm-style architecture in the Arenal area, Miradas Arenal Hotel & Hot Springs offers a variety of accommodations and cocooning thermal retreats to suit your needs.
This Costa Rica Hot Springs Resort has eleven bungalows with hot springs access along with an onsite restaurant serving breakfast (included) as well as lunch and dinner if you're looking for some tasty Costa Rican cuisine!
9. Nayara Springs Adults ONly
Nayara Springs is a secluded space of wellness and luxury. This boutique resort is a Costa Rican dream for anyone looking for a secluded, tropical vacation.
The resort sits at the top of rainforest foothills with beautiful views of Arenal Volcano and surrounding creeks that create an oasis-like setting. With 16 private villas, each boasting plunge pools, gardens, and open-air showers, you are sure to be indulged in luxury while on your stay here.
The spa has many luxurious treatments, such as volcanic mud wraps or chocolate clay exfoliants, which will have you feeling like royalty!
10. The Royal Corin - Costa Rica Hot Springs Resort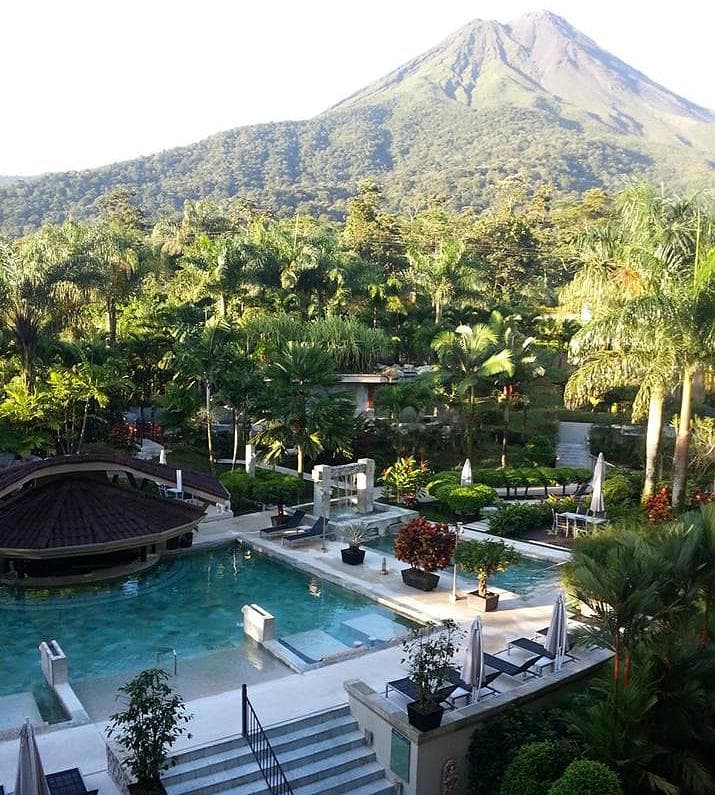 Hotel Resort Royal Corin is the perfect place for a rejuvenating vacation. The natural, colorless and odorless variety of mineral-rich hot spring pools have been known as one of nature's most effective healing sources for centuries.
Their thermal water is enriched with mineral elements such as Calcium, Magnesium, and Chloride, which can effectively soothe muscle aches and deep-moisturize your skin. You can't help but feel refreshed and relaxed after a visit to the Royal Corin Thermal Water & Spa Resort.
At this natural retreat, guests are invited to enjoy warm geothermal pools while soaking in the lush surroundings or treat themselves with some alone-time at the spa's steam room that has been built over an active hot spring where the temperature fluctuates between 40 °C (104 °F) and 50 °C (122º). The cherry on the cake, grids on the floor of the steam rooms allow guests to hear and smell the boiling natural hot spring underneath, creating a unique natural experience.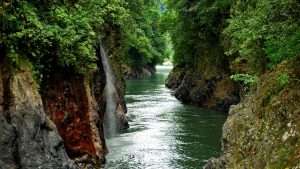 Tours
Pacuare River The Pacuare River is widely considered one of the best rafting destinations in
Read More »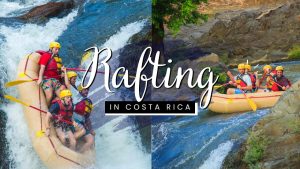 Tours
Rafting in Costa Rica Rafting in Costa Rica is a popular adventure tour among tourists
Read More »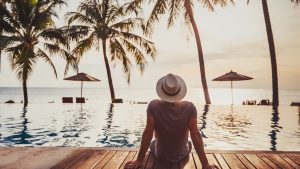 Hotels