Santa Teresa is a booming travel destination in Costa Rica.
Santa Teresa's white sand beaches and consistent surf attracts especially surfers and a growing number of travelers each year.
There is definitely a laid back, surfer, backpacker, hippie kind of vibe here.
There are also luxury accommodations, amazing restaurants, happening nightlife, and modern day amenities packed into this small town.
For many people surfing is the main pursuit and many visitors receive their first surf lesson in Santa Teresa. Apart from challenging surf spots for experts there are also the easy-going breaks of Playa Carmen for novice surfers. Many hotels offer surf instruction and surf camps in Santa Teresa.
Playa Santa Teresa ranks among the most beautiful beaches of Costa Rica. You can make long hikes along the picturesque coastline, bathe in tidal pools or find a place under a palm tree for loafing and reading a book.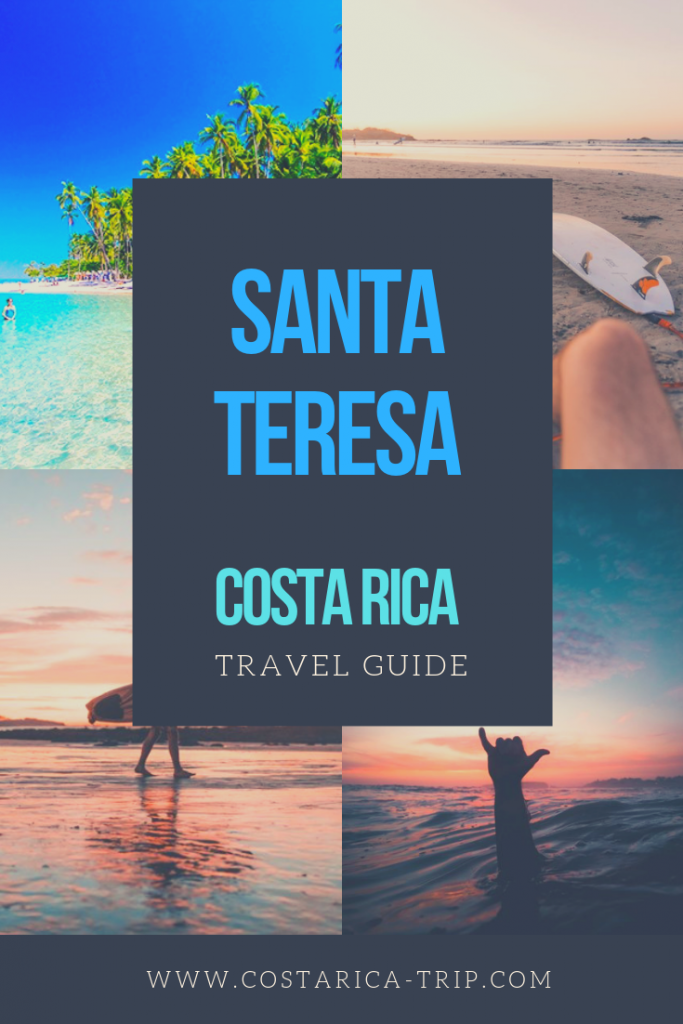 HOW TO GET TO SANTA TERESA
The fastest way to reach Santa Teresa by car is using Route 27, which will take you to Puntarenas downtown in around one hour, depending on traffic and weather conditions.
At the very end of Puntarenas town you can find the Ferry Station, here you need to buy the tickets for the next ferry to Paquera and make the line to get into it.
Depending on the time of the year the schedules vary, however is always advisable to plan your time base of the ferry hours.
The ride in ferry is very nice and it takes around 45 minutes.
After getting off the ferry, you have to follow the road down to Cobano and then head the crossroads at Playa Carmen, to the right you will reach Santa Teresa, to the left is Mal País.
The total time could be around 4 hours.
Two direct buses depart from San Jose and Santa Teresa every day, one at 6 am and one at 2 pm. Transportes Cobano runs the service, the price per person is approximately $12.00.
The journey takes 6 hours in total and the bus terminal is located in ¨La Coca Cola¨ in San Jose downtown. Another option using public transportation is taking buses going to Puntarenas, once in there take the ferry to Paquera and then take the bus from Cobano to Malpaís/Santa Teresa, which runs twice a day at 10:30 a.m. and 2:30 p.m.
Transportes Cobano Telephone number: +506 2221-7479
WHAT TO DO - THINGS TO DO IN SANTA TERESA
HIKE TO MONTEZUMA WATERFALLS
Just a short ATV or car ride away is the entrance to the Montezuma waterfalls. This is a great day activity for those looking to hike to and swim beneath a giant cascade. The hike can be a bit hot, so make sure to bring water and wear sunscreen, but the cool pool at the end is a wonderful and refreshing reward. For the dare devils out there, you can actually climb up the waterfall and jump off of it. Be careful of the rocks below though.
ECOADVENTURE TOUR IN SANTA TERESA
Ideal for lovers of sun, sand, nature, wildlife, and local culture, this private 9-hour tour of Santa Teresa showcases the area's rich beauty. Your private tour includes a 2-hour hike in Curu Wildlife Refuge to look for native animals followed by a typical Costa Rican lunch with a local family. In the afternoon, snorkel in the Tortuga Islands and finish your day at the Florida waterfalls — it's a perfect introduction to Costa Rica's natural highlights.
CABO BLANCO NATIONAL RESERVE
Cabo Blanco Nature Reserve is one of the oldest nature reserves in Costa Rica and is a spectacular place to visit. Cabo Blanco is home to a large variety of birds, mammals, and other animals, among which are anteaters, white-tailed deer, capuchin monkeys, coyotes, and elusive wildcats. There are also over 150 different types of trees that have been identified here. Don't miss this beautiful reserve when staying in the Santa Teresa area.
Santa Teresa has become one of the top destination surf spots for surfers in search of the best waves in Costa Rica. Because of its rolling coastline, white sand beaches and notoriously 'hollow' low tide waves, Santa Teresa attracts surfers of different levels of expertise. Beginners, intermediates and advance surfers alike can find a perfect breaking wave that caters to their level of experience.
There are three main surf breaks in Santa Teresa and several more just south in Mal Pais.
Playa Santa Teresa has a variety of beach breaks and point breaks. The waves here tend to be faster, hollower, and more powerful. Playa Santa Teresa is great for experienced surfers, especially when there is a good swell. Just north of Playa Santa Teresa is Playa Hermosa, which is a gentler wave and perfect for beginners, especially when the waves are on the smaller side. Then, at the very end, is Manzanillo, which is a reefy point break.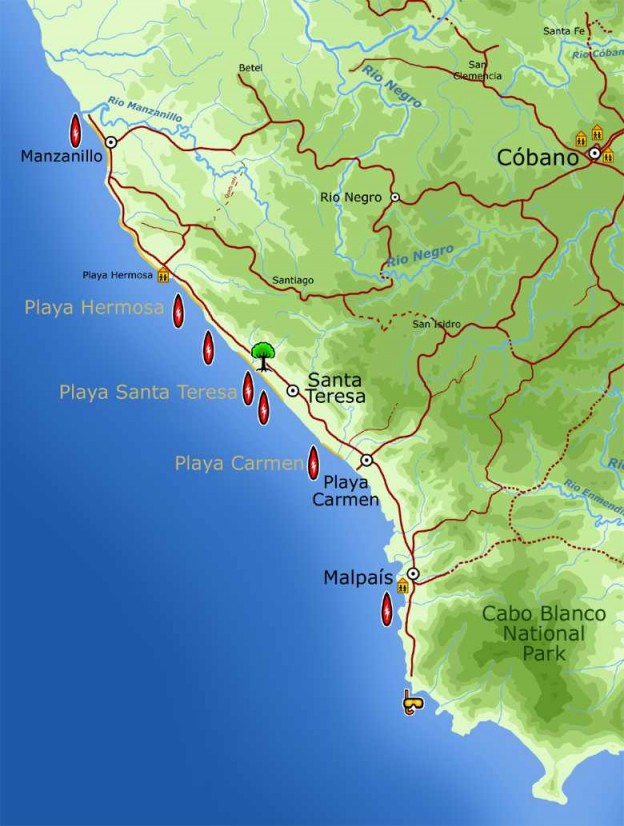 WHERE TO EAT IN SANTA TERESA
Santa Teresa hosts an impressive variety of dining options. There is quite literally something for every taste and budget. There are several traditional sodas, a few pizza and burger joints, organic and vegetarian-friendly cafés, and some fine-dining choices. Santa Teresa is a fun place to eat your way through.
Some top choices are:
Habaneros
Katana Asian Cuisine
Soda Tiquicia
Brisas Del Mar
Nectar at Florblanca.