Top Rated Tours in Manuel Antonio
Manuel Antonio is a very popular destination in Costa Rica, is often crowded but is definitely one of my favorite places in Costa Rica!
What I personally love the most about Manuel Antonio is the great opportunities to spot wildlife. 
Last time I went there, I took a Guided Tour to the National Park with my family and we saw 3 different species of monkeys, 1 raccoon, white-nosed coatis, 2 deers, 2 different species of snakes and lots of birds in just 2 hours.
Since this is a popular destination there are a lot of things you can do in the area and here we will help you out by recommending only the best tours in activities to do in Manuel Antonio. Check them out 😉 !
If you want to know how to get to Manuel Antonio and other important information check our Travel Guide to Manuel Antonio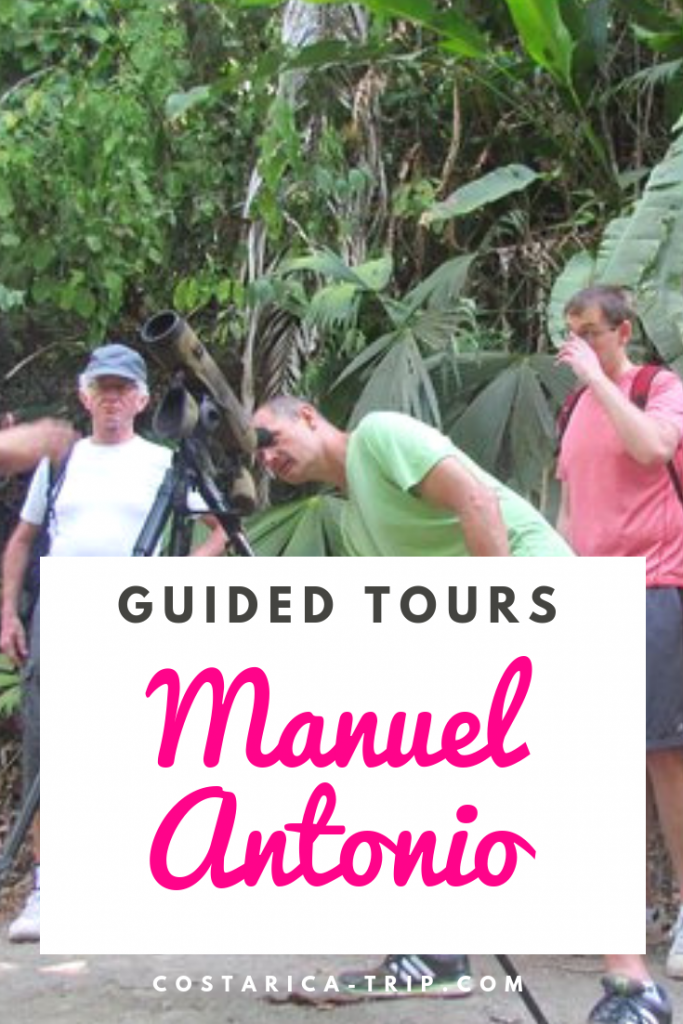 3 hours total
Drinks, ticket and Equipment included
Offered in English, French and Spanish
Departs from a private dock in the middle of the mangrove jungle, where you will get your kayak. You can ride tandem as well, but is more challenging to go through certain areas. The guide help you the whole way as well as take pictures for you to keep as memories. 
4 hours 
Entry/Admission included.
Snacks and Beverages included
Perfect for all ages and skill level
Traveler pickup is offered
Explore the pristine natural beauty of this World Famous National Park filled with exotic wildlife such as monkeys, sloths, birds, reptiles and butterflies.
4 hours 
Family friendly
Snacks and Beverages included
Snorkel gear included
During this tour, you will have the opportunity to sail along the Manuel Antonio coast. You can enjoy snorkeling and will be served a gourmet lunch, prepared with fresh ingredients as well as an open bar.
4 hours total
Lunch included
Family friendly
Departure from your Manuel Antonio or Quepos hotel
This horseback riding tour will help you see what Costa Rica looks like from a different perspective. You will be able to see amazing country towns, great valleys and Costa Rica's waterfalls. Abundant wildlife, exuberant vegetation. An expert nature guide will be your companion on this awesome trip.
6 hours total
Free hotel pickup and drop-off included
Family friendly
Mulguri Manuel Antonio waterfalls adventure and horseback riding. Explore the rainforest with hanging bridge, swim into the stunning waterfalls, discover the culture of Costa Rica.
Not ready to book your Tour yet?
Press CTRL + D on your keyboard to bookmark this page.
Or save one of the pins below to Pinterest

If you liked our recommendations or have questions, leave us a comment below! 🙂