All inclusive Manuel Antonio Resorts
Are you dreaming of a tropical getaway that includes everything you need for a relaxing and enjoyable vacation? Look no further than Manuel Antonio, Costa Rica and its array of all-inclusive resorts.
From luxury accommodations and gourmet dining to a variety of activities and drinks included in the price, all-inclusive resorts in Manuel Antonio offer an unbeatable vacation experience.
Nestled along the stunning Pacific coastline and surrounded by lush rainforests, Manuel Antonio is the perfect destination for a romantic escape or a family adventure.
In this blog post, we'll introduce you to some of the best all-inclusive resorts in Manuel Antonio and help you choose the one that's right for you.
So pack your bags, leave your worries behind, and get ready to immerse yourself in the beauty and culture of Costa Rica at an all-inclusive resort in Manuel Antonio.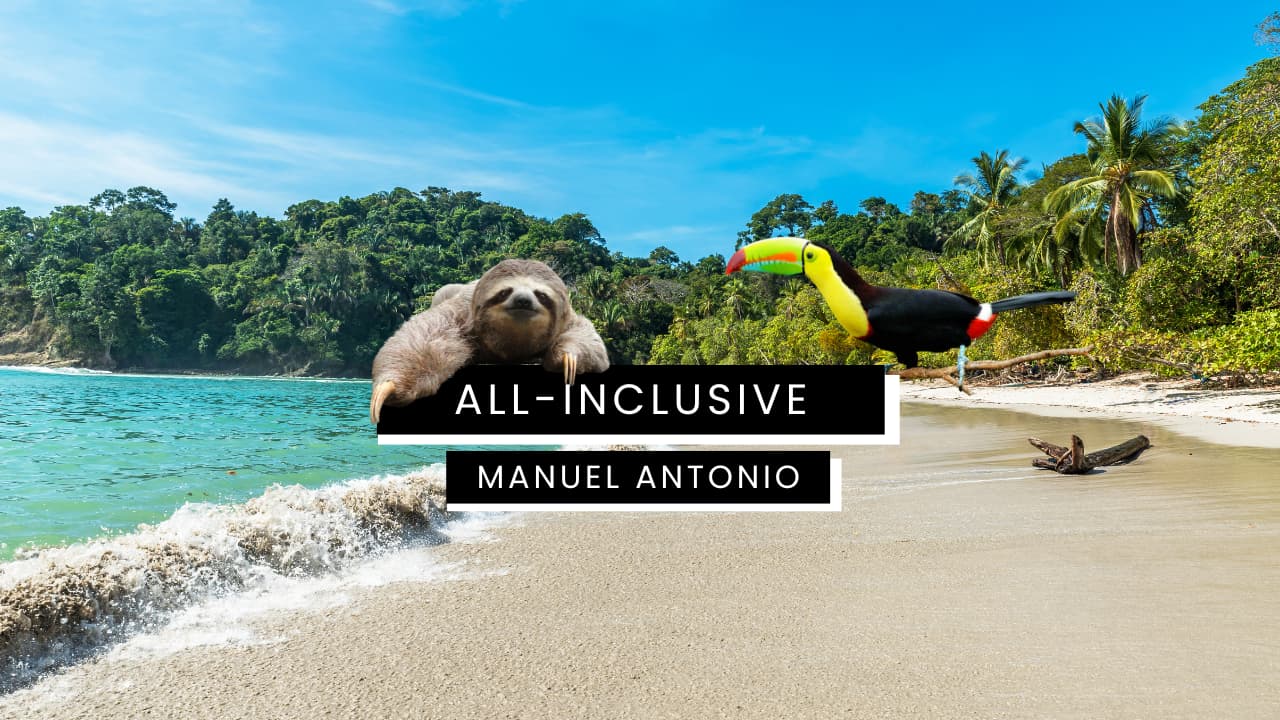 1. All Inclusive Parador Nature Resort and Spa: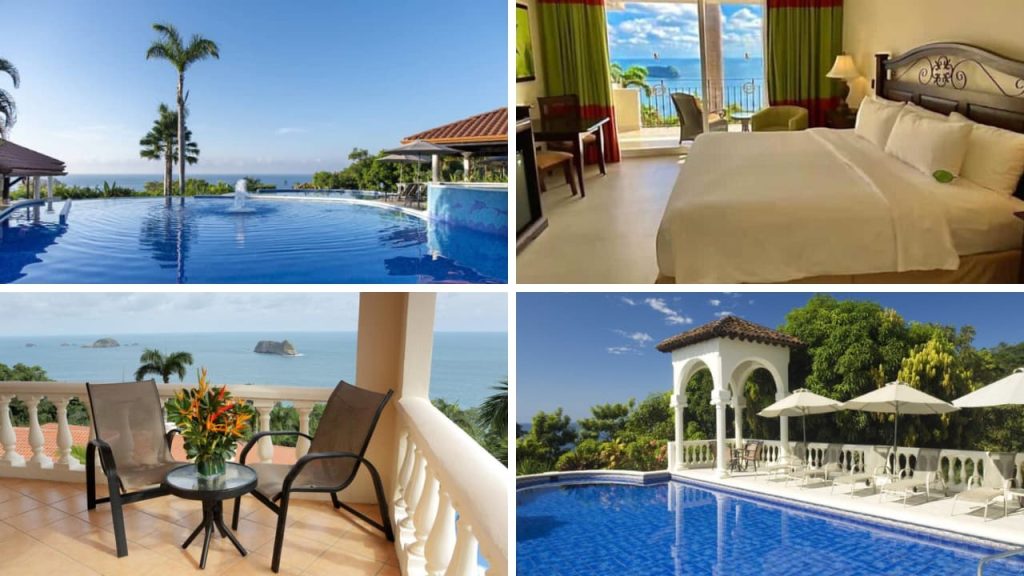 Parador Resort & Spa is a luxurious and environmentally-conscious resort located in Manuel Antonio, Costa Rica. It is internationally recognized as one of Costa Rica's most prestigious resorts, and is known for its commitment to "responsible luxury."
Situated atop the Punta Quepos promontory, Parador Resort & Spa offers stunning views of the Pacific Ocean and is surrounded by 12 acres of wildlife-rich rainforest. This beautiful environment is home to a variety of animals, including monkeys, sloths, and a range of bird species such as macaws, falcons, and toucans.
This All Inclusive resort in Manuel Antonio boasts 130 rooms and suites, providing a range of accommodation options to suit your needs. Guests can enjoy a sumptuous daily breakfast buffet, superb restaurants and bars, spectacular ocean-view swimming pools, a world-class spa, conference venues, and private dining rooms.
Parador Resort & Spa is the perfect choice for a variety of occasions, including family adventures, weddings, honeymoons, corporate events, and more. With its luxurious amenities and commitment to sustainability, it is sure to make your stay in Manuel Antonio an unforgettable experience.
2. Tulemar Resort in Manuel Antonio: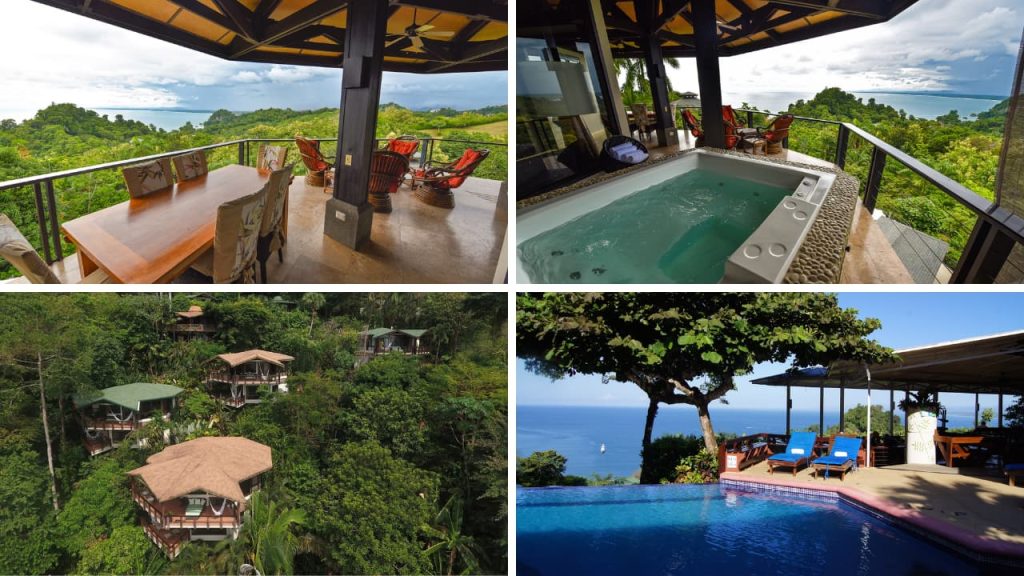 Tulemar Resort is a All-Inclusive resort located in the world-famous Tulemar Gardens property in Manuel Antonio, Costa Rica. It is the only licensed hotel operation on the 33-acre property and offers a range of accommodations including award-winning bungalows, luxurious casas, and beautiful private houses.
Nestled in a lush rainforest and overlooking the Manuel Antonio coastline, Tulemar Resort is surrounded by nature and features incredible gardens, walking paths, and a wide variety of thriving wildlife. It is also home to the only exclusive sandy beach in the region.
At Tulemar Resort, guests can enjoy the luxury and privacy of their own villa while also accessing the amenities of a high-end resort. These amenities include concierge services, 4 swimming pools, 2 restaurants, a beach bar, spa services, a tour desk, daily maid service, and shuttle services.
While there are other vacation rental options in Tulemar, Tulemar Resort is proud to offer the most comprehensive experience and make all of its amenities and services available to its guests. This makes it the ideal choice for those looking for a luxurious and fully-serviced vacation in Manuel Antonio.
3. Arenas Del Mar Beachfront & Rainforest Resort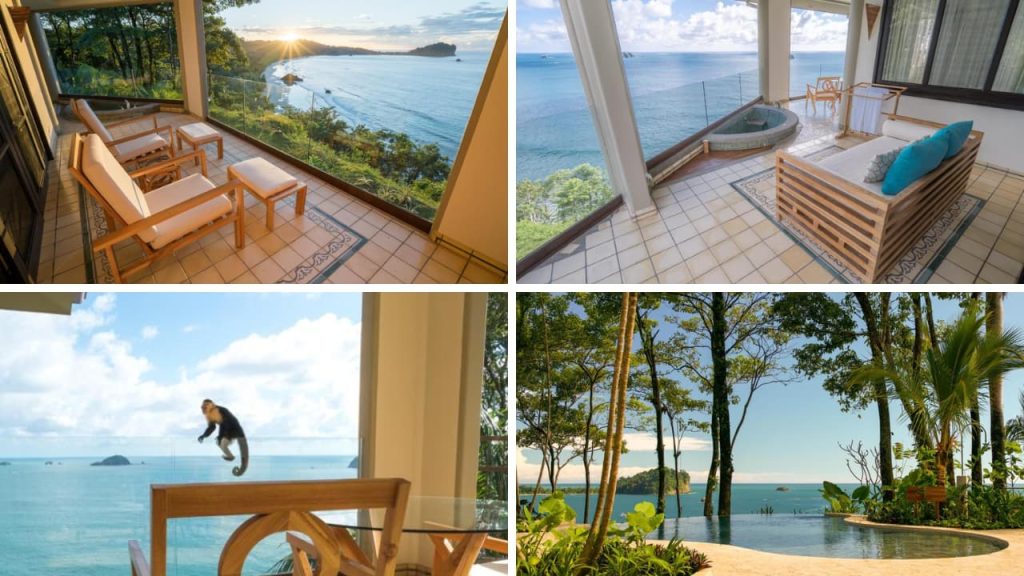 Arenas Del Mar Luxury Resort is a premier vacation destination located in Manuel Antonio, Costa Rica.
Situated on an 11-acre private rainforest reserve, the resort is home to an array of wildlife including monkeys and sloths.
It is also just steps away from two beautiful beaches, Playitas Beach and Espadilla Beach, and is within walking distance of Manuel Antonio town and Manuel Antonio National Park.
As the only luxury hotel in Manuel Antonio that is truly on the beach and in the rainforest, Arenas Del Mar offers guests the opportunity to experience the best of both worlds.
Whether you're looking for adventure, relaxation, or a combination of both, this luxury resort has something for everyone.
At Arenas Del Mar, you'll find a range of amenities and activities to enjoy, including resident Naturalist Guides who can help you spot rainforest wildlife and give you an intimate interpretation of the flora and fauna you'll encounter.
The resort also offers yoga and exercise classes twice a week, as well as spa treatments and a private beach for those looking to relax and unwind.
If you're searching for a five-star all inclusive Manuel Antonio resort that combines beachfront living with the beauty of the rainforest, Arenas Del Mar Luxury Resort is the perfect choice.
With its exceptional amenities and breathtaking natural surroundings, it is truly a place where nature has been kissed.
4. Si Como No All Inclusive Resort in Manuel Antonio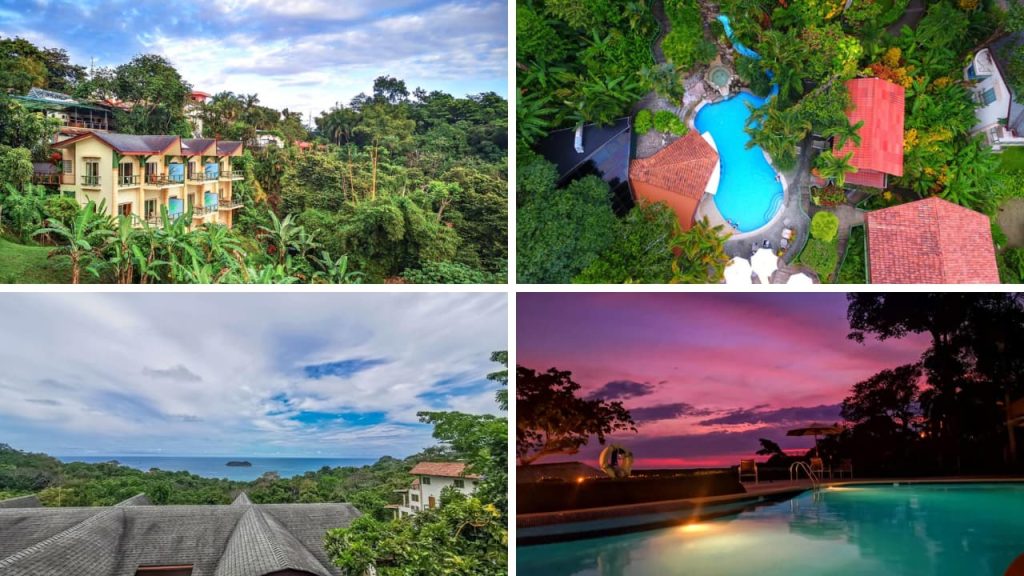 Si Como No Manuel Antonio Resort is a luxurious and sustainable destination located in Manuel Antonio, Costa Rica.
Nestled in the jungle above the Manuel Antonio National Park and just a 5-minute car ride from the beach, this charming hotel offers breathtaking panoramic views of the jungle and ocean.
At Si Como No, you'll find a range of amenities to enjoy, including spacious rooms and private balconies, pools, a spa, and popular restaurants set amidst lush jungle terraces and gardens.
The resort is also home to a butterfly garden and a cinema, as well as a hot tub and 2 outdoor pools with a waterslide and a swim-up bar.
The air-conditioned rooms at Si Como No feature tiled floors and modern decor, with each one offering jungle views, a sofa, and a coffee-maker.
The resort also has a contemporary characteristic restaurant, a snack bar with live music, as well as a swim-up bar where you can enjoy a refreshing cocktail in the pool.
Si Como No is conveniently located approximately 3 hours from Juan Santamaria International Airport, 25 minutes from Quepos, and just 10 minutes from Manuel Antonio National Park.
With its award-winning architecture, family-friendly atmosphere, and commitment to sustainable hospitality, it is no wonder Si Como No is a first-class resort destination in Manuel Antonio.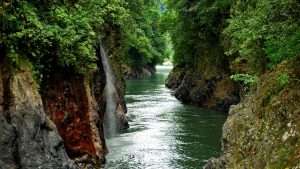 Tours
Pacuare River The Pacuare River is widely considered one of the best rafting destinations in
Read More »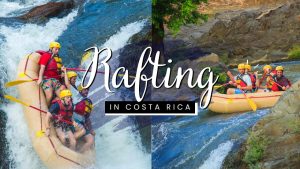 Tours
Rafting in Costa Rica Rafting in Costa Rica is a popular adventure tour among tourists
Read More »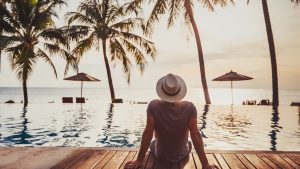 Hotels